Home
Cities
Located in one of the most peaceful countries, Copenhagen is the capital and the most densely populated city of Denmark. Home to the majestic Amalienborg castle, which nestles the Danish royal family, Copenhagen is situated on the eastern coast of Island, Zealand, which offers the tourists a rejuvenating experience.
The Little mermaid,Copahagen |
Image by
Maria Eklind
from flick
r
From majestic castles to the Tivoli Gardens, The Little Mermaid, and moreish Danish pastries at the cosy cafes, Copenhagen offers the tourists a frabjous experience, with a little amazement at every turn.While the National Museum of Denmark, cradling your fascination with art, culture, and history, will leave you intrigued, the Stroget Shopping Mile, teeming with life, will implore you to loosen your purse's strings a bit more.
Copenhagen is the perfect blend of ancient reverie and à la mode architecture. A city, which is thought to have been a Viking village in the early ages, Copenhagen found its way to the history in the 11th century, when it originated with a harbour.
The city gained significance when, in the middle of the 12th century, its reins were handed over to Bishop Absalon, who fortified it by building a portentous stone wall around it during the 13th century. Copenhagen has had its own share of peaks and valleys. The city, in the earlier times, was repeatedly attacked by the Germans, and had to hold out against a siege. Despite being tested a multitude of ways, Copenhagen successfully stood the test of time.
Copenhagen, having been blessed with a magnolious harbour, soon developed into a significant trading nucleus of the country. Currently helmed by Queen Margarethe II of Denmark, Copenhagen became a city in 1254, under Bishop Jakob Erlandsen.
While one can quench their touristy thirst by visiting the city at any time of the year, one should visit from May to September to nestle in the warmth of the sun; in January, if one wants to spend some time with a snowman; in December, if one wants to hear the jingle bells! All in all, Copenhagen offers the tourists a wholesome experience. It beats the blues, refreshes one's souls, and offers an adventurous experience all along!
The Tivoli Gardens
An amusement park with gardens, Tivoli Gardens are outlandish! Talk of bone-chilling roller-coaster rides, open-air theatres, hall-of-mirrors, a myriad of cozy and entertaining cafès and restaurants with exotic food, the Tivoli Gardens have it all, and much more! You can reach the Tivoli Gardens by booking a cost-effective ride with Rydeu! Choose from multiple budget-friendly and luxurious rides to be ferried to your location within no time!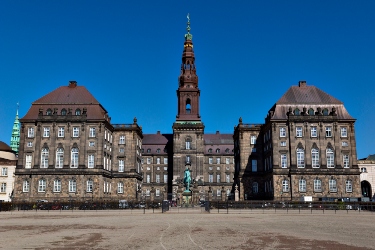 Image by Miguel Mendez from flickr
Christiansborg Palace
Nestled on the islands of Slotsholmen is the brain of Denmark - the seat of the Danish government. It is the only building in the world that houses all the branches of government. To reach the Christiansborg Palace, all you need to do is book a comfortable budget-friendly ride with Rydeu! Choose from us or our suppliers and let us handle your comfort!
National Museum of Denmark
If you're a history buff, and yearn for places with rich history and culture, then this is the place for you! You can ferry yourself to this amazing place by booking with Rydeu! From luxurious rides to pocket-friendly rides, along with 24*7 customer support, we have all you would need!
The National Gallery of Denmark
The National Gallery of Denmark offers a rich collection of art. It showcases the art from the 1700s to the à la mode, with paintings and artworks from not only Denmark, but also from around the globe. Don't think much! Get ready to see some beauty, by booking a ride with Rydeu to this wonderful place! How are we different? A surfeit of options, free cancellation, and a lot more!
Nyhavn Harbour
One of the most charming places in Copenhagen, Nyhavn Harbour is so beautiful that it will leave you bewitched. With houses painted with vibrant colors, lined along its streets, Nyhavn Harbour will give you a nautical vibe, and will have you captivated in a labyrinth of emotions. Book a relaxed ride with Rydeu and get ready for some adventure and amazing vacation-vibes!
Amalienborg Castle
Home to the Queen and the Crown Prince of Denmark, Amalienborg Castle, and its waterfront gardens offer a soothing experience amidst a picturesque environment. What are you waiting for? Get ready to experience a life teeming with royalty! Book with Rydeu, and save your money and time without missing out on comfort!