Home
Cities
Brussels Airport Transfer And Airport Transportation
Brussels Airport, known as Brussels Zaventem Airport, stands as a crucial gateway not only to Belgium but also to the dynamic tapestry of the wider European continent. Situated just a stone's throw from the bustling city center of Brussels, this airport welcomes travelers with its efficient services and multiple transportation options, making the journey from the tarmac to your desired destination seamless and comfortable.
For those seeking efficient transportation upon arrival, options like Brussels airport taxi and Brussels airport transfer services are readily available. These services provide a convenient way to travel from the airport to various parts of the city and beyond. Whether you're a tourist looking to explore the city's attractions or a business traveler with appointments to attend, airport taxis and airport transfers offer a hassle-free solution. If you value a more personalized travel experience, private taxi and private transfer options are also at your disposal, allowing you to journey in comfort and style.
Rental car, Brussels |
Click by
Sergio Calleja (Life is a trip)
from
Flickr
Taxi Services
For travelers seeking convenience and a direct ride to their destination, Private taxis are a popular choice. Taxi stands are conveniently located outside the arrivals hall, offering immediate access to a fleet of licensed cabs. It's advisable to establish the fare with the driver before embarking on the journey.
Train Connectivity
Brussels Airport boasts its own train station, Brussels Airport - Zaventem, situated beneath the terminal. This station provides efficient rail connections to key cities like Brussels, Antwerp, and beyond. The train system is not only efficient but also cost-effective, making it an appealing choice for those heading to the city center or other destinations.
Airport Shuttle Services
Several hotels and private companies offer dedicated airport shuttle services. Pre-booking a shuttle can be especially beneficial for groups or individuals with specific destinations. These shuttles provide personalized transportation from the Brussesls airport to accommodations or other points within the city.
Public Bus Routes
Public buses operated by STIB/MIVB and De Lijn provide a budget-friendly means of navigating the city and its surroundings. If you're interested in exploring Brussels' attractions, you might consider the option of a Brussels sightseeing tour for a more comprehensive experience. However, if you're seeking practical transportation from the Brussels airport, public bus routes offer a convenient and cost-effective solution. The airport is well-connected by bus routes, ensuring that travelers have flexible and accessible transportation options to and from various parts of the city and beyond.
Car Rentals
For those desiring independence in their travels, car rental agencies have a presence within the terminal. Renting a car is a convenient way to explore both Brussels and nearby regions at your own pace.
Why Book Rydeu For Airport Transfer In Brussels
When you arrive at any of the major Brussels airports from a long and tiring journey, the last thing you need is a worrisome ride to your hotel. At nights when there is no public transportation, when you have a lot of luggage, and when you want to avoid the hustle and bustle of public taxis, here is where Rydeu, including Brussels airport taxi and Brussels airport transfer services, steps in to offer a seamless solution. It is advised not to take any rides from unlicensed and illegal taxis.
Rydeu provides a one-step solution to all your problems with its easy and hassle-free experience. A diverse fleet of options varying to your budget, Rydeu offers safety and comfort from all your transfers out of the airport, be it through airport taxis or private transfers.
Understanding the time sensitivity which comes with all trips, Rydeu provides a feasible 24-hour cancellation policy. An intra-city trip can be canceled up to 3 hours before a ride, whereas an intercity trip can be canceled 24 hours before.
With fixed prices and no hidden costs, transparency between the customer and Rydeu is maintained. As customer satisfaction is paramount, a 24/7 customer service is also available to solve any problem which arises. Rydeu looks forward to seeing you in Brussels, whether you're arriving at Brussels airport or planning Brussels sightseeing tours to explore the city's attractions.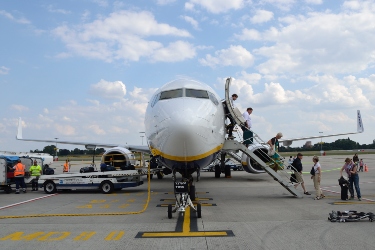 Click by Cha già José from Flickr
Brussels Charleroi Airport
Brussels Charleroi Airport, also known as Brussels South Charleroi Airport, is a notable international airport situated about 46 kilometers south of Brussels, Belgium. It serves as a hub for several low-cost airlines, providing affordable flight options to various destinations across Europe. While smaller than the main Brussels Airport, Transportation to and from the airport is convenient with options like airport taxi, airport transfer services, private taxi, and private transfer services, and the airport has undergone expansions to cater to its growing passenger traffic.
Click by Rob Schleiffert from Flickr
Brussels Zaventem Airport
Brussels Zaventem Airport, also known as Brussels Airport, is Belgium's central international gateway. With extensive flight connections, modern amenities, and efficient transport links, it's a key hub for both travelers and cargo. Situated close to the city, it offers seamless check-in, baggage handling, lounges, and dining options. Direct trains to Brussels Central Station, private taxis, buses, and car rentals ensure easy access. This airport plays a pivotal role in connecting Belgium to the world while prioritizing safety and convenience.