Home
Cities
Bruges, a city located in the Flemish region of Belgium, is an amazing place full of culture, charm, and character. The old medieval city center is full of cobblestone streets, Gothic churches, and gorgeous canals that make it a great destination for travelers. The city center is easy to navigate and the sights are plentiful, with attractions ranging from old cathedrals and churches to tranquil parks and gardens. And of course, there's the famous Belfry, one of the most iconic symbols of Bruges.
Choco-Story Museum
|
Click by
Hans Splinter
from
Flickr
For those who enjoy art and culture, Bruges is a must-see destination. The Groeningemuseum houses some of the world's most famous Flemish paintings, while the Choco-Story Museum is a fun, educational way to learn about the history of chocolate. Other museums such as the Frietmuseum, the Lace Museum, and the Gruuthusemuseum are all great places to visit and learn about Bruges' fascinating past.
Gruuthusemuseum, Bruges
|
Click by
Dimitris Kamaras
from
Flickr
Bruges also has its fair share of entertainment. There are plenty of theaters, pubs, bars, and clubs in the city center that provide a great night out for all ages. And if you're looking for something a bit more laid back, then take a stroll down the Markt, where you can sample some delicious Belgian beer or indulge in some local cuisine at one of the many restaurants.
Bruges is a city that is full of culture, history, and beauty. Whether you're looking for an adventure, an educational experience, or just want to relax and explore the city, Bruges is sure to satisfy you!
Trams
The tram system is another convenient way to get around. It runs from the railway station to various points in the city and outlying areas. The tram lines have been recently modernized, offering quick and easy connections around the city. Tram fares range from €1.20 - €2.50 depending on the distance traveled. Day passes are also available and cost €5.30, allowing you to travel unlimitedly for 24 hours. If you are planning on using the trams regularly, a 10-trip ticket can also be purchased for €11.50.
It's easy to purchase tram tickets at any of the tram stops or the central station. Tickets are valid for 60 minutes and must be validated at the ticket machines before boarding. Be sure to hold onto your ticket until you exit the tram as fare inspectors may occasionally check for valid tickets.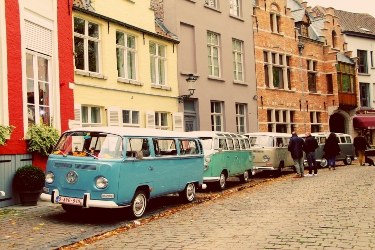 VW Bus, Bruges
|
Click by
frankieleon
from
Flickr
Buses
The bus system in Bruges covers most of the city, with an extensive network of bus routes connecting you to the city center and beyond. There are also several night buses running after regular hours so you can make your way back home. You can purchase a multi-day pass if you plan to do some extensive exploring while you're in Bruges. These passes are valid for 1 day (€5.50), 2 days (€10.50), or 3 days (€15.50). The multi-day passes offer unlimited travel on all De Lijn buses, trams, and night buses in Bruges. De Lijn also offers discounts for students and seniors. Students can purchase an annual student pass for €80, which allows them to travel on any De Lijn bus, tram, or night bus at any time. Seniors over the age of 65 can purchase an annual pass for €45, which offers the same privileges.
Finally, if you plan on staying in Bruges for an extended period, you may want to consider buying a season ticket. This ticket offers unlimited access to all De Lijn buses, trams, and night buses in Bruges for 1 month (€35), 3 months (€70), or 1 year (€280).
Boats, Bruges

|

Click by

R Boed

from

Flickr
Boats
If you prefer, you can take a boat ride along the canals of Bruges. Several boat companies offer boat tours around the city's canals and rivers. The boat tours offer a unique way to get an up close and personal view of Bruges and its beautiful buildings. Several companies offer boat rides around the city's canals, allowing visitors to soak up its scenery in a new and exciting way. Fares and tickets vary but generally range from €8 - €20 per person. Be sure to check with the individual companies for more specific information.
Taxi
One of the most convenient ways to get around Bruges is by taxi. The local taxi services in Bruges are reliable, affordable, and easy to access. They offer door-to-door service for any destination within the city. The fare for the taxi ride depends on the distance traveled, with an additional fee for luggage or extra passengers.
Generally speaking, the flag drop rate for a Bruges taxi is €3.30 per kilometer. For longer journeys, this rate may be higher, depending on how far you're traveling and how long it will take to reach your destination. If you want to know the exact fare before setting off, it's always best to call ahead and ask for an estimate. In addition to the standard flag drop rate, Bruges also has a € 2-night surcharge fee that's applied between 9 PM and 6 AM on weekends and holidays. This extra fee is also charged when you're traveling from one municipality to another, regardless of the time of day or night.
As with any other type of travel, it's always wise to have cash on hand in case you need to pay for a taxi ride. Most taxi services also accept credit cards, so you don't have to worry about carrying too much cash. Taxi drivers in Bruges are experienced and well-informed about the city, so you can rely on them for sightseeing advice and tips. Some taxi services even offer customized city tours where you can choose to go anywhere in Bruges without having to worry about figuring out directions.
Overall, Bruges taxi services are a great way to get around the city and explore the sights at your own pace.
Bikes
However, for those looking to explore Bruges while taking in stunning views, bike rentals are a great option. This historic city has plenty of sights and attractions, making it the perfect place for a leisurely ride. One of the best things about cycling around Bruges is that you can go at your own pace. Whether you want to take your time and take in all the scenic views, or you're in more of a rush to get around, there are bike rental options that can accommodate your needs.
When looking for bike rental options in Bruges, there are a few main places to check out. First, there are bike rental shops scattered around the city center. These will offer traditional bikes and other rental options such as electric bikes, tricycles, and children's bikes.
Alternatively, you can also rent bikes from the Bruges train station. This is a great option if you're just passing through town, as you won't need to worry about returning the bike to a certain location.
Finally, several companies offer bike tours of Bruges, allowing you to see some of the city's most famous sights while still having the freedom to go at your own pace. These tours will usually include guided routes as well as suggestions on where to stop along the way. No matter which option you choose, getting around Bruges by bike is an excellent way to take in the city's sights and sounds. Plus, with the wide range of bike rental options available, it's easy to find the perfect solution for you. So why not hop on a bike and enjoy the scenic views of Bruges?
If you're traveling to Bruges, Belgium, one of the most important things to consider is how you will make it to your destination from the airport. There are several options for airport transfers in Bruges, and you should plan to ensure that you arrive safely and on time.
Taxi, Airport Transfer

|

Click by

Ike ofSpain

from

Flickr
The most popular form of airport transfer in Bruges is by taxi. Taxis can be found outside the arrivals area at both Bruges International Airport and Brussels International Airport. The taxi ride from either of these airports to Bruges takes approximately an hour and fifteen minutes and will cost between €80-€90 depending on traffic and other factors.
Another option is to take the train from either of the airports. Trains depart from both Brussels International Airport and Bruges International Airport every half hour from 6:00 am until 8:00 pm. A train ticket from either airport to Bruges costs around €15. The journey takes around two hours depending on which train you take.
If you are traveling in a group or with a lot of luggage, you may want to consider hiring a private transfer. Companies such as Taxi Brussels or Airport Shuttle Bruges offer private transfers from both Brussels International Airport and Bruges International Airport. Prices vary depending on the size of the vehicle and the number of passengers.
No matter which form of airport transfer you choose, it's important to plan and make your arrangements before arriving in Bruges. By booking your transfers before you arrive, you can rest assured that you will have a safe and stress-free journey to your destination.
Know More
Best time to visit Bruges
When it comes to planning your visit to the beautiful city of Bruges, it is important to consider the weather. Located in northwestern Belgium, Bruges has a temperate climate with cool summers and mild winters. Average temperatures range from 4°C (40°F) in January to 22°C (72°F) in July. Generally speaking, the best time to visit Bruges is during the warmer months of April through October, when temperatures are comfortable and the skies tend to be clear. Of course, the exact timing of your visit will depend on your preferences and desired activities.
In addition to temperature, another factor to keep in mind when planning your trip is precipitation. Bruges receives an average of 81 rainy days per year, but most of these rain showers are short-lived and rarely cause much disruption. While some travelers may prefer the beauty of a misty winter day, for the most part, visitors will find that the city looks its best in the summertime.
No matter when you choose to visit, it's important to pack the right kind of clothes so that you can stay comfortable while exploring all of the fascinating attractions that Bruges has to offer. With its stunning architecture, historical sites, and beautiful canals, this charming city is sure to be a delight no matter what the Bruges weather has in store.
Know More