Home
Cities
Bologna Airport Transfers and Private Transportation
When considering your journey to Bologna, one of the key factors to plan for is your airport transfer. Bologna provides a range of options for airport transfers, including private transportation services that promise a seamless and comfortable experience.
Reserving Bologna airport transfers in advance ensures a smooth transition from the airport to your chosen destination. Private transportation services offer tailored and convenient journeys, boasting an array of vehicle choices such as luxury cars, limousines, and SUVs.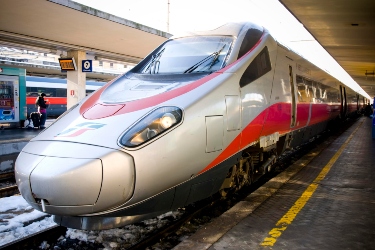 Rail Station, Airport Transfer

|

Click by

Alessandro Capotondi

from

Flickr
For a convenient and reliable airport transfer option in Bologna, airport taxis are a well-favored choice. These taxis are at your service 24/7 and can be pre-booked or arranged upon your airport arrival. Bologna airport taxi service offer comfort and ease for your commute, and the drivers possess local knowledge, providing valuable recommendations for your visit.
If you prefer planning ahead, book taxi Bologna services allow you to secure your airport transfer online. Your driver will await your arrival at the airport, ensuring a stress-free and dependable means of reaching your destination.
Shuttle services are another option for airport transfers in Bologna, offering a cost-effective solution, particularly suitable for budget-conscious travelers. Sharing the shuttle with fellow passengers allows you to split the fare, making it an economical choice.
In conclusion, when it comes to your travel to Bologna, airport transfers are a crucial consideration for a hassle-free journey. Whether you opt for private transportation, book taxi Bologna services, or choose budget-friendly shuttles, you'll find a suitable transfer option to match your needs. Pre-arranging your airport transfer ensures a seamless start to your Bologna adventure.
Why Book Rydeu for Airport Transfers in Bologna
The city of wonders demands nothing less than the best. To soak the peaceful surrounding, the picturesque scenic background, you need to escape the hassle of travelling in public transport. The easy cancellation policies allow you to cancel your trip without any hidden charges. Change in plans? Don't worry, we offer free cancellation up to 3 hours before the ride for intracity transfers and 24 hours for intercity transfers to the city.
Are you seeking a reliable and cost-effective airport transfer service in Bologna? Look no further than Rydeu! We offer a comprehensive selection of Bologna airport transfer services, presenting a superior alternative to the often expensive and subpar airport taxi options. Whether you require a private transfer or a captivating sightseeing tour of Bologna, Rydeu has all your needs covered.
Understanding the potential stress of airport transfers, we take pride in providing competitive rates for private transfers to and from Bologna airport. Our services are readily available at the airport, eliminating concerns about navigating the city with your luggage.
At Rydeu, our extensive fleet includes a variety of vehicles, from SUVs and minivans to premium options, ensuring you can select the vehicle that perfectly suits your requirements. Our experienced and knowledgeable drivers guarantee your safe and punctual arrival at your destination.
Booking a transfer with Rydeu is a seamless and straightforward process. Our private transfer service is ideal for those who wish to travel in both comfort and style. Additionally, we offer sightseeing tours of Bologna, allowing you to explore the city and its myriad attractions.
We take immense pride in delivering top-tier taxi services in Bologna. Our primary objective is to make your airport transfer as stress-free as possible, allowing you to sit back and relax while we manage all the logistics. Secure your Bologna airport transfer with Rydeu today and savor the distinction!
So, whether you're in search of a private taxi service or an airport transfer service in Bologna, Rydeu is your ultimate solution. Our Bologna airport transfer services excel, affording you a comfortable and hassle-free journey. Waste no time – book your Bologna transfer from the airport with Rydeu today to experience the finest in the business!
If you're pondering how to secure a taxi in Bologna, look no further than Rydeu. We provide effortless and convenient booking services for all your Bologna transfers from the airport, including Bologna airport transfers. Our airport taxi transfer service is the ultimate choice for those seeking a quick and efficient way to travel to and from the airport.
In conclusion, when in need of a private taxi or airport transfer service in Bologna, Rydeu is your go-to option. Boasting competitive pricing, an extensive range of vehicle choices, and drivers with extensive expertise, we lead the industry. Do not hesitate – book your Bologna airport transfer with Rydeu today and relish the unparalleled experience!
Click by kitmasterbloke from Flickr
Bologna Guglielmo Marconi Airport
Bologna Guglielmo Marconi Airport, renowned for its exceptional services, serves as a key gateway to Italy. Situated just 6 kilometers northwest of Bologna's city center, it offers seamless access via multiple transportation options, including public transit, shuttles, and private transfers. This airport boasts two terminals, with Terminal A as the primary hub. Passengers at Bologna Guglielmo Marconi Airport enjoy modern amenities, including complimentary Wi-Fi, ATMs, currency exchange services, and a diverse selection of duty-free shopping opportunities. For those seeking Bologna Airport Transfers, an array of choices awaits, including Bologna airport taxi, airport transfer, private taxi, private transfer, and private limousine services. Private transfers, featuring luxurious cars and limousines, are especially popular and can be booked in advance for a seamless airport experience. Bologna Guglielmo Marconi Airport plays a vital role in connecting travelers to numerous domestic and international destinations, facilitating travel across Europe, Asia, and beyond. It experiences increased activity during peak travel seasons. Moreover, the airport provides extensive shopping options, from high-end luxury brands to duty-free stores, catering to diverse traveler preferences. Additionally, various restaurants and cafes offer delectable cuisine and beverages, satisfying culinary desires for a delightful airport experience.