Home
Cities
Bologna City Guide And Airport Transfer Service
Bologna, often referred to as "La Dotta" (The Learned), is a charming and culturally rich city that entices numerous visitors annually. To ensure a hassle-free and comfortable visit, it's imperative to prearrange your transportation. Fortunately, Bologna offers an array of Bologna airport transfer services, encompassing Bologna airport taxi service, private cabs, airport shuttles, and even captivating city tours.
Bologna International Airport transfer services provide a dependable and convenient way to navigate to and from the airport. Opting for a private transfer or private taxi allows you to bypass the waiting associated with taxis or shuttle services, affording you a plush and exclusive journey in a luxurious vehicle. By booking your transfer in advance, your driver will be ready at the airport to whisk you away to your desired destination.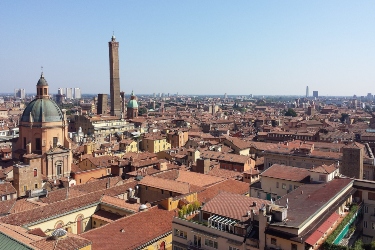 Bologna Colony | Click by
RitaMichelon
from
Pixabay
Among the favored choices for airport transfers in Bologna is the Bologna Airport Taxi service. These taxis are easily found at the airport, typically waiting just outside the terminal. However, if your preference leans towards enhanced comfort and privacy, advance booking options for private cabs and taxis are readily available.
Additionally, Bologna International Airport hosts various shuttle services. While these tend to be more budget-friendly than private options, they might sacrifice some comfort and convenience, as you may share the shuttle with fellow passengers, potentially leading to a lengthier journey.
For those seeking a touch of luxury, the option of booking a private transfer cab in Bologna is available. These cabs are typically chauffeured by professionals proficient in English, ensuring a plush and private voyage. Furthermore, a range of opulent vehicles, including limousines and SUVs, can be selected to match your preferences.
Streets of Bologna | Click by
CpILL
from
Flickr
Beyond airport transfers, Bologna extends private transportation services for city tours. You can arrange for a Bologna private cab or Bologna sightseeing tours to embark on a personalized exploration of the city. Your knowledgeable driver will guide you to the iconic landmarks, museums, and delectable restaurants, enhancing your Bologna experience.
In conclusion, reserving your Bologna airport transfer in advance is indispensable to guarantee a smooth and stress-free visit to this remarkable city. With a plethora of options available, encompassing taxis, shuttles, private cabs, and shuttle services, you'll undoubtedly discover a transfer service that aligns with your requirements and budget. Waste no time; secure your transfer today and relish your stay in beautiful Bologna!
Best Time to Visit Bologna
The best time to visit Bologna largely depends on your preferences and what kind of experience you're seeking. Here's a breakdown of the seasons in Bologna:
Spring (March to May): Spring is a delightful time to visit Bologna. The weather is mild, and the city's gardens and parks come to life with blossoms. It's a great time for outdoor activities and sightseeing without the heat and crowds of summer.

Summer (June to August): Summer is peak tourist season in Bologna. The weather is warm to hot, and the city can get crowded, especially in July and August. This is an excellent time for outdoor events and festivals, but be prepared for higher prices and the need to book accommodations and tours in advance.

Autumn (September to November): Autumn is another fantastic time to visit Bologna. The weather remains pleasant, and the summer crowds start to thin. It's an excellent season for foodies, as it's harvest time for grapes and olives. The city's culinary scene is vibrant, and you can enjoy delicious seasonal dishes.

Winter (December to February): Winters in Bologna are cold and can be rainy, but they come with a unique charm. If you prefer a quieter, more intimate experience, this is the time to visit. The city is beautifully decorated for the holidays, and you can warm up with hearty Italian cuisine. Just be prepared for shorter daylight hours.
In conclusion, the best time to visit Bologna depends on your preferences. Spring and autumn offer pleasant weather and fewer crowds, making them ideal for many travelers. However, if you enjoy the vibrancy of summer festivals or the coziness of winter holidays, those seasons have their unique appeal as well.
Book your Airport Transfers in Bologna
When planning your trip to Bologna, it's crucial to arrange your airport transfer in advance to ensure a seamless and stress-free arrival and departure experience. Bologna offers various options for airport transfer services, including bologna airport taxis, private taxis, taxi services, private transfers, sightseeing transfer and bologna sightseeing tours.
Bus, Bologna | Click by
Erik Starck
from
Flickr
Bologna international airport transfer services, such as Bologna airport taxi, private taxis and taxi services, offer a comfortable and private journey to your destination. These services are available 24/7 and can be pre-booked for transfers from Bologna Airport or even for sightseeing tours within the city. Opting for private transfers is an excellent choice for those seeking personalized service and the luxury of premium vehicles.
Travelers on a budget can consider shuttle services at Bologna Airport. These services are more cost-effective compared to private taxis and offer the advantage of sharing the shuttle with fellow passengers. It's an ideal choice if you're traveling with a group or family.
Trolley Bus, Bologna

|
Click by
Project-128
from
Flickr
Booking services are also accessible for Bologna airport transfers. These services enable you to secure your transfer in advance, ensuring a hassle-free journey. Your designated driver will be ready at the airport to transport you to your destination promptly.
For those wanting to combine their airport transfer with a sightseeing experience, sightseeing transfers are readily available. These transfers allow you to explore Bologna's landmarks and attractions while en route to your final stop.
In conclusion, when planning your trip to Bologna, don't forget to arrange your airport transfer in advance. Bologna offers a range of transfer options, from bologna airport taxi, private taxis to shuttle services, ensuring you find the most suitable choice for your travel needs. Whether you're seeking convenience, budget-friendliness, or a city tour, Bologna has the right transfer service for you.
Bologna Airport Transfers and Private Taxi Service
Bologna, renowned for its historic charm, is a city that beckons travelers for both business and leisure. Navigating the city begins with securing essential services like Bologna airport transfers. Arranging airport transfer Bologna might seem daunting if you're unfamiliar with the area or language. Thankfully, Bologna offers an array of transfer options to cater to your needs.
One of the favored choices for Bologna airport transfers is the private taxi service. Booking a taxi in advance ensures a smooth arrival, with your driver meeting you at the airport and delivering you directly to your hotel or chosen destination in Bologna. This personalized service guarantees convenience and comfort for your journey.
Bus, Airport Transfer

|

Click by

photobeppus

from

Flickr
Online booking services, such as book taxi Bologna, provide a seamless way to secure your airport transfer Bologna ahead of time. From the comfort of your home or office, you can reserve your transfer, selecting from various options, including private taxis, shuttle services, and luxurious vehicles. Pre-booking your airport transfer eliminates the stress of finding transportation upon arrival.
For budget-conscious travelers, shuttle services are a practical choice for airport transfers in Bologna. These services offer affordability and the opportunity to share the shuttle with fellow passengers, reducing costs. It's an excellent option for group travel or families.
In summary, airport transfers are indispensable for a hassle-free and enjoyable visit to the captivating city of Bologna. Whether you opt for a private taxi, book taxi Bologna service, or economical shuttle service, you'll find the ideal transfer solution to suit your preferences. Secure your airport transfer in advance to ensure a seamless start to your Bologna adventure.
Know More
Explore Bologna Sightseeing
Bologna, celebrated for its captivating architecture, art, and cultural heritage, stands as an enticing Bologna tourist attraction. Notable among its Bologna tourist spots are the Two Towers, Bologna Cathedral, Piazza Maggiore, Archiginnasio of Bologna, Santo Stefano Basilica, and the scenic Giardini Margherita. For a comfortable exploration, consider booking a Bologna airport taxi, allowing you to experience the city's charms at your pace.
Bologna Guglielmo Marconi Airport offers various sightseeing tours, including private taxis, transfers, and airport taxis, catering to diverse preferences. Opting for a Bologna sightseeing tour or transfer ensures easy access to top attractions, guided by knowledgeable and friendly experts who unveil Bologna's history and culture.
Sightseeing transfers provide an excellent opportunity to explore Bologna's must-see places. With panoramic views from private vehicles, some services even include sightseeing stops, letting you admire Bologna's architectural splendor en route to your destination.
Know More