Bologna City Guide
Nestled in the heart of the country, Bologna is known to be the most vibrant and lively city in Italy and is the historical capital of the Emilia-Romagna region squatting in the northern part of the country. With peace dangling in its air, this city possesses enormous love for its people and is seen to be the seventh most populous city in Italy.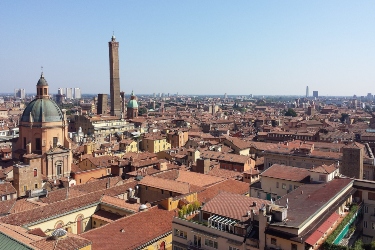 Formerly Etruscan, the city was the first one to take a step towards modernity and has remained the paramount urban centre for centuries. Due to the rich history that the city possesses, it was declared as the European capital of culture and in the year 2006, it was declared as a city of music by UNESCO and was included in the Creative City Network.
Streets of Bologna |
Image by
CpILL
from flickr
Bologna is known to have an amalgamation of art, history, cuisine and sightseeing to please its visitors in the best way possible. Italy is the only country which provides an array of options for every sort of visitor out there, Bologna, in general, is one of the places that have the power to sway every part of the crowd from an adventure lover to a food enthusiast. Famous for its Bolognese sauce and Italian wine and pasta, this city will satisfy your taste buds at its best.
Best time to visit Bologna
The months from March to October is seen to be the best time to wander around the city. The cool wind blowing by and the hazy sun rays will soothe your soul. Although one can experience the city at its best during these months, be prepared to go a bit heavy on your pocket as tourists from all the countries visit this mesmerising city during the peak time. The weather is nice for you to meander around the town for witnessing the ultimate architecture and sky-high churches to wake your religious side.