Home
Cities
Bodo International Airport is situated just 12 kms or 1.2 miles away from the vibrant city centre which makes it easier for the travellers to reach without worrying much. The city has a lot of options to keep you satisfied and choose the mode of transportation that speaks volume for you, some of the most common modes for commuting are busses, and private taxis.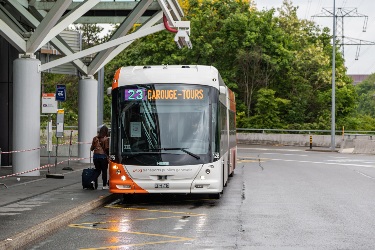 If you wish to take a bus, you can choose between Line 1 and Line 4 to reach the city centre, the journey time is approximately 10 minutes as the airport is located surprisingly close to the city centre. You can take the bus as soon as you walk out of the main entrance of the airport, the busses run at an interval of 15 minutes, so it is highly advisable to check the routes and be there on time rather than waiting for a quarter to an hour to catch a bus. A single ticket can be bought for 43 NOK for adults and 22 NOK for the little ones. Busses are usually filled by the locals and you might not be able to find a seat, so if you are carrying luggage, make sure if you want to travel via a bus or not. If you're not carrying a lot of luggage with you, you might as well wear comfy shoes and walk to the city centre.
Bodo airport to city centre taxi is the best option if you have an early morning or a late night flight. Rydeu provides you the best rides at a cost effective price, for the best taxi service in Bodo make sure to check the online bookings to save your effort and enjoy the trip later. Bodo Airport to the city centre is just a click away.
Travelling is the only escape that everyone must take to dive into the pure divinity of Mother Nature. Travelling for free might not be possible but travelling under budget is. Well, to make your wishes come true, Rydeu has finally made its arrival featuring the world-class services for the comfort of its clients. Airport transfers from Vienna directly to your accommodation is promised without going too heavy on your wallet, avoid the hassle of travelling in the crowd, book your ride and take a memorable trip with your loved ones.
We offer a wide variety of transportation from budget-friendly rides to lavish ones, your demands are now just a click away. The easy cancellation policies allow you to cancel your trip without any hidden charges. Change in plans? Don't worry, we offer free cancellation up to 3 hours before the ride for intra city transfers and 24 hours for intercity transfers to the city.
The user can either explore Rydeu's offer or directly check out the offers from our suppliers listed on the page for making travelling easy in the contemporary era, Providing a timeless experience to you has been our ultimate goal, enjoy our 24*7 customer service to connect with our team for all your queries.
Bodo International Airport
This civil airport is situated in the town of Bodo in Nordland county of Norway. The airport is placed in the south of the city centre on the mouth of Bodo peninsula and shares all its facilities with Bodo Main Air Station (The military force base).