Home
Cities
Sightseeing Transfer in Billund
Billund Beach |
Click by
Matt Sachtler
from
Flickr
At a glance, Billund City in Denmark exudes a captivating charm with its vibrant atmosphere and diverse attractions. For a seamless and enjoyable exploration of this delightful city, consider opting for Billund Airport transfer and Billund Airport taxi services, which provide convenient transportation options to and from Billund International Airport. LEGOLAND Billund Resort, a world-renowned theme park, lures visitors of all ages with its creative LEGO-themed rides and interactive exhibits. The Lalandia Water Park adds to the excitement, offering aquatic adventures with water slides and wave pools. For wildlife enthusiasts, Givskud Zoo presents a thrilling opportunity to encounter majestic animals in spacious enclosures. The Sculpture Park at the Museum of Danish Art showcases a harmonious fusion of art and nature, providing a serene escape.
Street of Billund |
Click by
Ayleen Dority
from
Flickr
Beyond its attractions, Billund boasts a family-friendly environment, with cycling trails that unveil the town's scenic beauty. Danish hospitality warmly welcomes travelers, and modern amenities ensure a comfortable stay. Furthermore, Billund takes pride in its sustainable initiatives, making it a destination that cares for its environment. Whether you seek thrilling amusement park experiences, cultural explorations, or a relaxing family getaway, Billund City is a captivating destination that promises a memorable and enjoyable vacation with different Billund sightseeing tours.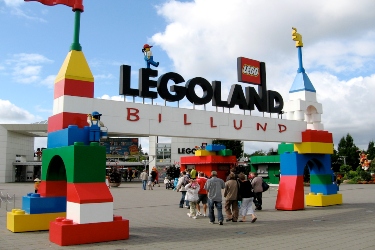 Click by Marcin Wichary from Flickr
Legoland Billund
One of the most visited places in Denmark, Legoland Billund takes you back to your childhood! Having cut the ribbons on 7th June 1968, Legoland Denmark has a mini-land, too! Mini land is the place where you can witness monuments and cityscapes from in and around Denmark! What are you waiting for? Book a ride to this amazing place with Rydeu, and say no to compromise!
Click by denisbin from Flickr
Kongernes Jelling
Kongernes Jelling, also known as, "Home of the Vikings" is a part of the Danish National Museum. A free sight for the history buffs, it is a place where you can witness inscriptions carved by King Harald, into mammoth runestones, depicting how he won Denmark and Norway. There's nothing to think about! Book a customized ride with Rydeu, and get ready for a trip to the Home of the Vikings!
Click by nitli from Pixabay
Givskud Zoo
Are you an animal lover or love to go on a safari? If yes, Givskud Zoo is the perfect tourist attraction for you in Billund. One of the best tourist places in Billund, this zoo offers a unique safari experience where you can drive through and pass by a plethora of animal species in spacious enclosures. If you prefer not to drive, you can hop onto a safari bus for a guided tour. For a convenient and enjoyable trip to Givskud Zoo and other tourist spots in Billund, Rydeu offers a fleet of private taxis to ferry you to this adventurous land. Book with Rydeu and let us take charge of your happiness, ensuring a smooth and comfortable journey to your desired destinations in Billund. Explore the wonders of Givskud Zoo and other attractions with Rydeu's reliable and professional taxi services.
Click by Annelieke B from Flickr
Skulpturpark
A park laced with ancient and modern sculptures, skulpturpark will leave you mesmerized! After taking a walk around the park, you can relax by the lake! Reaching skulpturpark is quite unexacting with Rydeu by your side! Choose from our various offers, and book a congenial ride to this fantastic place!
Click by Ehrenberg Kommunikation from Flickr
Lalandia Billund
An amusement park for the kids, with a wellness centre for the adults, Lalandia Billund is an amazing place that will keep your children occupied, while you let yourself loose! In order to reach Lalandia Billund, all you have to do is book a pleasant ride with Rydeu! With a fleet of offers and 24*7 customer support and much more, Rydeu has everything you need!
Click by Anna_Neumann from Pixabay
Blaavand
Are you a fan of calm waters? Do you like the North Sea sans the strong currents? If yes, then rest assured, this wondrous place, which is approximately 77 kilometers from Billund, exists for you! With calm water currents hitting the beaches, and white-snow surrounding the land, Blaavand is a place that will leave its mark on you!
Click by PublicDomainPictures from Pixabay
Ribe
Approximately 58 kilometers from Billund, Ribe is Denmark's oldest town. During the summertime, the town basks in the sun, which is what mainly contributes to the town's well-famed, legendary ice cream parlour, Isvaflen. Rest assured, this small, cozy town with attractions such as the Ribes Vikinger and the Wadden sea, Ribe will definitely hold you enchanted.
Click by IMBiblio from Flickr
Esbjerg
A day ride of around 64 kilometers from Billund will take you to the city of Esbjerg. A small city, teeming with life that can get your spirits high even on an exhausting day, is what defines Esbjerg perfectly! From Fisheries to Museums, the city has attractions for all its tourists with distinctive tastes
Click by Pug Girl from Flickr
Copenhagen
About 265 kilometers from Billund, is the Danish capital - the city of Copenhagen. The seat of the Danish government and the land of royalty, Copenhagen will startle you with its soul! From the Round Tower to the Nyhavn Harbour, Copenhagen has attractions with rich historical significance! A city that will definitely end up being your dreamland, Copenhagen should definitely be on your itinerary!