Home
Cities
A town cradled in the centre of Denmark, Billund is a city that can captivate you in a whirlwind of nostalgic emotions. A city laced with innumerable sculptures to take you to the days of rich ancient art and architecture, Billund boasts of, "Legoland Billund", which is the first Legoland theme park.
Legoland, Billund |
Image by
bobbsled
from flickr
Billund is an agreeable town, cherished for its warmth, and homely countenance, proving to be a paradise for the adherents of peace and solitude. A town that can calm your nerves, and take you beyond the mere materialism of the world - that's what Billund is!
Legoland castle hotel |
Image by
Brickset
from flickr
Apart from a chance, to embrace your inner child in the Lego factory, Billund offers its tourists, a rich countryside surrounded by cosy pub-style restaurants where, after a long day of exploration and fun, you can wind up, snug as a bug in a rug! If you are hitting the central Billund, you can try some open-faced sandwiches, smoked salmon, and a lot more exotic dishes! If you are not on a time crunch, try the avant-garde restaurant at the Lego house - a tinge of playfulness and delectable food will leave you drooling for more!
Billund, a city that has long been a part of the Grove Church, was originally known as, "Byllundt", and was only named, "Billund" in 1510. Ole Kirk Christiansen - the man who is credited for the major tourist attraction in Billund - founded the Lego Group in 1932, and thereby, contributed not only to the economic growth but also to the global significance of the city.
Billund is a city that will embrace your soul! From a dedicated sculpture park to Lalandia Sand Gallery, Billund is capable of catering to the taste of every travel bug!
What are you waiting for?
Get those bags packed, and hit this exotic city in the summertime, which is from March to September; as they say, "one must maintain a little bit of summer, even in the winters".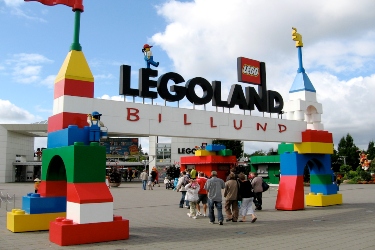 Legoland Billund
One of the most visited places in Denmark, Legoland Billund takes you back to your childhood! Having cut the ribbons on 7th June 1968, Legoland Denmark has a mini-land, too! Mini land is the place where you can witness monuments and cityscapes from in and around Denmark! What are you waiting for? Book a ride to this amazing place with Rydeu, and say no to compromise!
Kongernes Jelling
Kongernes Jelling, also known as, "Home of the Vikings" is a part of the Danish National Museum. A free sight for the history buffs, it is a place where you can witness inscriptions carved by King Harald, into mammoth runestones, depicting how he won Denmark and Norway. There's nothing to think about! Book a customized ride with Rydeu, and get ready for a trip to the Home of the Vikings!
Givskud Zoo
Are you an animal lover, or love to go on a safari? If yes, this is the place for you! The best part? If you have rented your own car, you can drive through the zoo, and pass by a plethora of species. Alternatively, you can hop onto a safari bus. Rydeu offers a fleet of private taxis to ferry you to this adventurous land! Book with us and let us be the incharge of your happiness!
Skulpturpark
A park laced with ancient and modern sculptures, skulpturpark will leave you mesmerized! After taking a walk around the park, you can relax by the lake! Reaching skulpturpark is quite unexacting with Rydeu by your side! Choose from our various offers, and book a congenial ride to this fantastic place!
Lalandia Billund
An amusement park for the kids, with a wellness centre for the adults, Lalandia Billund is an amazing place that will keep your children occupied, while you let yourself loose! In order to reach Lalandia Billund, all you have to do is book a pleasant ride with Rydeu! With a fleet of offers and 24*7 customer support and much more, Rydeu has everything you need!
Museumsgaarden Karensminde
From trying your hands at making Jam in the kitchen, to enjoying horse and cart-rides, Karensmide is a place that you will never forget about! It has a rich history, and will offer you an excursion of the earlier when the framers used different methods to work their lands. You will see the kind of animals they relied on that will either roam around the place, or are put in open enclosures. Rydeu offers its tourists comfortable and budget-friendly taxis to this adventurous place! Book with Rydeu and leave for this place in your customized ride!