Home
Cities
Berlin City Guide And Airport Transfer Service
The largest city in Germany, Berlin is the chief urban centre of the country. The state of Brandenburg surrounds Germany's greenest city and is the most populous city in the European Union. The city stretches across the banks of the river Spree, which flows into the river Havel. Courtesy of the rivers Spree, Dahme and Havel, Berlin comprises many lakes and southeastern boroughs throughout its stretch. With its 1/3rd area comprising forests, gardens, parks, rivers, lakes and canals, the city comes in a complete package for nature lovers! If you're planning a visit to Berlin, you can explore the city's beauty through Berlin sightseeing tours. When arriving at Berlin airport, you can easily arrange a Berlin airport taxi or airport transfer service for a convenient and hassle-free journey to your destination. Private taxi and private transfer options are available to ensure a comfortable and personalized experience.
The city of Berlin made its way into the historical records for the very first time in the late 12th century. The city has great historical significance and still sings the songs of its glorious historical past! From 1417 - 1701, Berlin became the capital of Margraviate of Brandenburg. The city also became the capital of the Kingdom of Prussia, the German Empire, the Weimar Republic and the Third Reich at different time periods in history! It was only after World War II that this majestic city was divided! Discover the beauty and heritage of Berlin while enjoying convenient transportation services such as airport taxi and Berlin airport transfers.
Berlin City | Click by
noelsch
from
Pixabay
The city, traditional in its culture, is scientific, and is a land of politics and media! Berlin's flourishing economy is credited to its high-tech firms and the service sector, which includes a plethora of creative industries, research facilities, convention venues and media corporations! The high living standards of the people of the city are a testament to the city's prosperity and an ever-so-flourishing economy. If you want to explore Berlin's vibrant culture and economic dynamism, consider taking Berlin sightseeing tours to immerse yourself in the city's unique atmosphere. Whether you're visiting for business or leisure, Berlin airport taxi and airport transfer services provide reliable transportation solutions to navigate the bustling city of Berlin.
City Architecture | Click by
wal_17261
from
Pixabay
Although the city's first-ever written records date back to the late 12th century, Berlin's founding year is 1237. The city is so majestic is no stranger to tough times! Berlin witnessed its own downfall in the aftermath of the Thirty Years' War between 1618 and 1648. The city lost one-third of its houses and over half of its population! Soon after, "The Great Elector" - Frederick William - introduced a policy that promoted immigration and religious intolerance in order to bring back the country on its feet and restore normalcy. If you're fascinated by Berlin's history and want to delve deeper into its rich past, consider booking Berlin sightseeing tours to explore its historical landmarks and learn about its resilience. Whether you prefer an airport taxi or private transfer, there are options available to suit your preferences. Berlin private cab services also provide a comfortable and personalized transportation experience. Experience the charm of Berlin while enjoying the convenience of Berlin airport taxi services.
The city suffered the second wave of shock when it was briefly occupied by the Russian army during the Seven Years' War under the rule of Fredrick II.
The city's economy and population flourished during the Industrial Revolution in the 19th century. Berlin emerged as the main railway hub and economic centre of Germany. The city further suffered a few shocks and damages during World War I, World War II and the Nazi Movement. Nevertheless, Berlin restored its normalcy and soon became better than it was before! When you arrive in Berlin, you can easily avail yourself of the convenience of a Berlin airport taxi or taxi service to reach your desired destination. If you prefer shared transportation, shuttle bus services are also available for airport transfers. These services ensure a hassle-free and comfortable journey from the airport to your accommodation or any other location in the city. Experience the efficiency and convenience of airport taxi service and shuttle bus options when travelling to or from Berlin airport.
The city is enchanting and casts a spell on the ones who let themselves loose in its beautiful surroundings! With its exotic sightseeing places like The impressive Brandenburg Gate, Reichstag building, Berlin Wall Memorial and Museum Island, unique culture and delectable cuisines, Berlin is set to hold your hearts captive! Named after Otto Lilienthal, The Berlin Tegel Airport is the main international airport in Berlin. Explore the wonders of Berlin through Berlin sightseeing tours and enjoy seamless transportation with Berlin airport taxi services.
Rest assured, the city, so historical yet modern, with all of its exquisite places and unique characteristics, will definitely be worth your time and dime. If you decide to explore the city, try and make your plans around May to September.
Best Time to Visit Berlin
Berlin is a vibrant city with a lot to offer year-round. The best time to visit depends on your preferences. Summers (June to August) offer pleasant weather for outdoor activities. Notable events like the Berlinale in February, Karneval der Kulturen in May, and Festival of Lights in October add cultural excitement. Crowds are busiest in summer, so consider visiting during spring or autumn for a more relaxed experience. Off-peak months (November to March, excluding holidays) may offer better prices. Ultimately, the ideal time to visit Berlin depends on the weather, events, crowds, and budget. Choose a time that aligns with your interests and make the most of this vibrant city. You can easily book a Berlin airport taxi or airport transfer when flying into Berlin so that you can get to your accommodation with ease. For shared transportation, shuttle bus services are an alternative. Private taxis and private transfer alternatives are also available for a more individualised experience. With Berlin sightseeing tours, you can discover the city's landmarks and attractions and guarantee a pleasant trip. Utilise effective Berlin Private Cab services and practical transportation choices, including airport taxi, shuttle bus, and private cab services to make the most of your time in Berlin.
Book Your Airport Transfers in Berlin
The German city of Berlin has dedicated public and private transportation systems to cater to the needs of the touristy souls! The city ensures that every tourist and traveller is supervised, and has therefore made something for everyone! While Berlin's public transport system is convenient, affordable, and exhausting due to its high demand and suits the touristy souls who are tight on their respective budgets, its private transport system offers more comfort, luxury, and customization and is a bit more costly than public transportation. You may easily take advantage of the Berlin Airport Taxi or Berlin Airport Transfer once you arrive at the Berlin airport to get where you need to go. Whether you choose public transportation, airport taxi service, shuttle bus, or private transfer, Berlin ensures that you have reliable and efficient options to navigate the city and experience Berlin Sightseeing. Enjoy the convenience and comfort of your preferred transportation mode while exploring the vibrant city of Berlin.
S-Bahn, Berlin |
Click by
Schnitzel_bank
from
Flickr
S-Bahn
The S-Bahn is a commuter rail line in Berlin that covers around 170 stations and runs from east to west and north to south. The S-Bahn rides are convenient, comfortable and safe for getting around in and exploring the majestic city of Berlin. The cost of the tickets hovers around 1.70 euros - 3.40 euros. Additionally, if you prefer a direct and hassle-free transfer from Berlin airport to your destination, you can rely on Berlin Airport Taxi and transfer services. These services provide convenient transportation options, ensuring a smooth and comfortable journey. Whether you choose the S-Bahn or opt for Berlin Airport Taxi and Airport transfer, you can easily navigate the city and make the most of your visit to Berlin.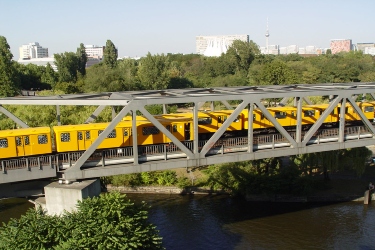 U-Bahn, Berlin

|

Click by

Herman

from

Flickr
U-Bahn
Preferred way of transportation by most tourists and travellers, the U-Bahn runs on ten routes, covers 173 stations, and operates for 24 hours on the weekends! The ticket prices are based on a zone system. There are three zones - A, B, and C - with most of the sightseeing places located in zones A and B. Similarly, as S-Bahn, you can choose Berlin Airport Tax or Airport Transfer to connect with U- Bahn.
Bus
One of the most convenient yet slower transport modes, the Berlin buses are comfortable and safe! The most common bus route is Route 100, and the most popular bus numbers for travelling around the city are 216 and 218.
The ticket prices for bus rides in Berlin fall from around 1.70 euros - 3 euros.
Car
Although not a preferred mode of transport in traffic-clogged Berlin, self-driven cars are still quite convenient for those who wish to be self-reliant. There are a few car-rental agencies or Booking services from where tourists and travellers can rent a car for themselves if at all they wish to do so!
Bike
Bikes with a dockless concept have gained popularity in this mesmerizing city! One of the most adventurous ways of exploring the city, Bikes can be rented from several rental agencies across Berlin!
The fares vary depending on the distance one wishes to cover and the type of bike one wants to rent!
Taxi
The best way of exploring the incredible city of Berlin remains by a Private taxi! Cabs in Berlin are convenient and comfortable and can be customized as per your needs! Taxi prices in Berlin vary according to the distance one travel!
Rydeu offers all of its tourists and travellers taxi booking services in Berlin! Rydeu's taxis come with a plethora of offers from Rydeu and its suppliers, respectively! The taxi rides could be luxurious or budget-friendly and could be customized as per your needs and wants!
Berlin Airport Transfer And Private Taxi Service
Berlin ensures none of its tourists and travellers are left stranded! Hence, as soon as the touristy souls land at the airport, the city employs a plethora of airport transfer facilities that cater to them.
The Berlin Airport has a myriad of options for airport transfers, which are streamed into public and private transportation systems. The public transport system, albeit convenient and affordable, is quite exhausting. The private transportation system, on the other hand, is very comfortable and luxurious and imbibes the touristy souls with authentic vacation vibes!
Suburban train, Airport Transfer

|

Click by

Ioan Sameli

from

Flickr
While the Berlin airport to Berlin city transport system's public transfer facilities include the S-Bahn, U-Bahn and buses, the private transfer facilities include self-driven cars, bikes and taxis! If you prefer a seamless and convenient transfer, you can opt for Berlin Airport Taxi and Berlin Airport Transfer services. These private airport taxi services offer reliable transportation from the airport to your destination, ensuring a comfortable and hassle-free journey. Additionally, to explore the city's attractions and landmarks, you can also consider booking Berlin sightseeing tours that provide guided experiences and insights into the rich history and culture of Berlin. Whether you choose public or private transportation options, Berlin offers a comprehensive range of airport transfer facilities to meet the diverse needs of its visitors.
A choice of Berlin Airport transfers
Rydeu offers a taxi service from Berlin airport for airport transfers in the city! With Rydeu, the tourists and travellers can book Berlin airport taxi online! Tourists can book a customized, budget-friendly or luxurious taxi from Tegel airport for transfers to their accommodation, and avail the benefits of various exciting offers and perks.
Know More
Sightseeing Transfer in Berlin
If you're looking for sightseeing transfer options in Berlin, there are several popular choices available. One option is to take a Berlin Sightseeing Tour, one option is to take a hop-on hop-off bus tour, which allows you to explore the city's major landmarks at your own pace. These buses follow designated routes, and you can get off at any stop to visit attractions that interest you, and then rejoin the bus later to continue the tour. Another option is to take a tram tour, as Berlin has an extensive tram network that covers various parts of the city. This allows you to enjoy the sights while moving between attractions, with tram routes often passing by significant landmarks, providing a comfortable seat to see them. You can join a guided bike tour for a more active and immersive experience. Berlin is known for its bike-friendly infrastructure, and these tours take you to famous attractions while providing insights into the city's history and culture.
Alternatively, you can opt for a river cruise along the River Spree, which offers a unique perspective on Berlin's landmarks. These cruises typically depart from central locations and provide guided commentary while passing iconic sights like the Reichstag, Museum Island, and Berlin Cathedral. Lastly, if you prefer a more intimate exploration, walking tours are available, focusing on different themes such as historical sites, street art, or culinary delights. These berlin Sightseeing tours provide a deeper understanding of Berlin's history and culture.
When choosing a sightseeing tour option, consider your preferences, available time, and the attractions you wish to visit. Additionally, it's advisable to check the availability and schedule of the different tours or transfers, as they may vary depending on the season or specific days of the week. Enjoy your sightseeing adventure in Berlin and make the most of your time exploring this vibrant city.
Know More