Transfers from Antwerp International Airport are extremely easy and convenient. Your journey begins at the airport itself and a lot depends on the method of airport transfers chosen.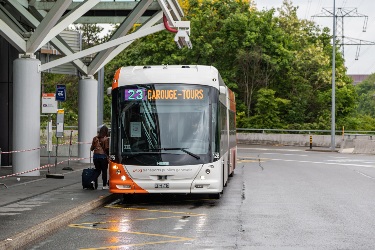 Antwerp's public transportation system is exceptional. With an extremely organized system of buses and trains one is subjected to a completely different point of view of the city and easy transfers from the airports are provided.
Buses 51,52 and 53 provide easy and convenient transfers from the airport to the Antwerp-Berchem railway station in 10 minutes. The Antwerp-Berchem railway station is located extremely close to the international airport and offers connections to other parts of the country including Brussels, Ghent and Bruges. International train connections are provided by the Antwerp-Central Station which can be reached by frequent running trains from Antwerp-Berchem Station. The connection takes only 5 minutes. Alternatively, buses 21 and 32 and trams 9 and 11 from the Antwerp-Berchem Station also offer fast transfers to Roosevelt Square, near Antwerp-Central railway station. Tickets for trains can be bought from the Ticket Offices or the Ticket Vending Machines located at the entry of the train station building.
Buses 51,52 and 53 run every 15 minutes from the roundabout located in front of the airport and take you to the Antwerp-Berchem Station in 10 minutes. Further, the majority of the buses at the Bercham station go to Rooseveltplaats.
You can also take a tram from the Antwerp-Berchem Station. Tram 4 ends at Slisburg and has a stop at Antwerpen Groenplaats which is close to the city center and shopping area. Tram 9 stops at Meir and Groenplaats and Tram 11 stops close to Antwerp-Central Station
Taxis are a convenient choice from travelling from the airport especially at night when there is no public transportation and you have a lot of luggage. You can find the taxi stand when leaving the airport building. They can also be found at the roundabout from the airport building. Never use taxis that are not licensed. If licensed taxis are not available, an information desk can be contacted for additional help. It is located in the min hall. Taxi companies like DTM and TAXI ANTWERPEN SERVICE provide licensed cabs from the airport. Rydeu provides an easy solution for all your travel woes with easy airport transfers. They are cheap, affordable and leave you hassle-free to enjoy the journey to your destination.