Home
Cities
Antwerp City Guide And Airport Transfer Service
Belgium's biggest port, Antwerp attracts everyone, from hard-core party goers to diamond dealers, from fashion moguls to art fanatics. The city has excellently preserved its medieval heart despite severe World War II bombing. Decorated streets full with cobblestones, quaint cafes, a riverside fortress and a truly magnificent cathedral, Antwerp remains one of Europe's most important cities.
Port,Antwerp |
Image by
imo.un
from flickr
A city with an international reputation in the 15th and 16th century, Antwerp was reputed for its bustling port which accelerated the economic influx of the area. Today, it has cemented its position as a modern metropolis. Historic structures like the new Law Courts, the MAS museum or the Port Authority building glitter the city's landscape. Yet, it still provides opportunities to just unwind and relax on a park bench and smell the roses
City Hall, Antwerp |
Image by
CMFRIESE
from flickr
A delightful place for food-lovers, Antwerp is full of wonderful cafés and fine dining restaurants. The beautiful blend of traditional Flemish dishes with Mediterranean, French and vegetarian cuisines is note-worthy. The city is sprinkled with a vast variety of bars and places to drink. De Koninck, a light ale drunk in a small, stemmed glass is beloved by locals and tourists alike. The city has its own free news sheet, Zone 03, which tells all about events, exhibitions and concerts taking place. It is great to discover the vibrant and diverse cultural scene of Antwerp.
Visit the historical centre of the town, City Hall, which is surrounded by gorgeous medieval guild houses which can be found in most Flemish historical towns. A UNESCO World Heritage site, the city hall is a mesmerizing architectural example of Gothic and early Renaissance style. The Square lights up at night and brilliantly shines with a magical aura.
The area hosts the exciting Festival van Vlaanderen which features more than one hundred classical concerts performed all over the country. Belgium's best world music festival, SFINKS is also organized outdoors in the suburb of Boechoutin the last week of July.
A haven for shopaholics, ModeNatie is a gigantic fashion complex which ambitiously incorporates styles from the Royal Academy of Fine Arts and the Flanders Fashion Institute. Surrounding a lavish atmosphere, part of the complex houses a fashion museum, MoMu. It displays all aspects of fashion, everything from the walking stick as a fashion statement to the evolution of the trench coat. Admire its adventurous and thought-provoking temporary displays.
Book Your Airport Transfer In Antwerp
Travelling within Brussels is extremely convenient while using public transportation. With an extremely organized system of buses, ferries and trains, one is subjected to a completely different point of view of the city. The public transportation of the city is operated by De Lijn company.
Bus,Antwerp

|
Image by
sludgegulper
from flickr
Bus
Public transport is extremely safe, smooth and efficient and connects every corner of the city. Cards of €14 can be purchased inside buses or at various points in the town. It is cheaper than paying inside a bus which can cost around €3 per fare. The Franklin Roosevelt plaats is the main and central bus station and it is located near the train station. For comfort of the passengers, maps of the bus and tram network covering the whole area can be found online.
Central Station,Antwerp
|
Image by
Carl Campbell
from flickr
The Antwerp Central Station is an architectural monument in itself and it provides easy transfers to other parts of the country like Ghent, Bruges, Ostend, Brussels and international transfers to Amsterdam and Paris. The tram network provided by De Lijn offers access to the city centre, suburbs and the Left Bank. There are 12 lines which includes a tunnel under the river and an underground section which is called the 'premetro'.
Bicycle
Due to the city's compact size, transfers by bicycle is an enjoyable and idyllic mode of transportation. There are many special paths for cyclists sprinkled all over the city. A bike-sharing scheme called Velo is extremely popular in the city. Purchase a day pass for this scheme at the central station and you can pick up your bikes at more than 80 places in Antwerp. The price slowly increases after the first 15 minutes which are free. You can also rent a bike at Ligfiets, Windroos, Fietsdokter or Fietshaven.
There is also a unique method of getting around in the city. Have a memorable time travelling in the Horse tram, which leaves from the Grote Markt every hour. It takes you on a 40 minutes ride through the city.
Taxi
Taxis can be handy when you want to avoid crowds and travel without any waiting time. It is recommended to take a taxi from a well-known company and it is difficult to wave one down. Taxis are available only at specific locations like the Groenplaats or the railway station and you can identify these places with an orange TAXI sign. For easy, stress-free travel, Rydeu provides private transfers in and around the city. Rydeu strives to make every journey safe and enjoyable.
Antwerp Airport Transfer And Private Taxi Service
Transfers from Antwerp International Airport are extremely easy and convenient. Your journey begins at the airport itself and a lot depends on the method of airport transfers chosen.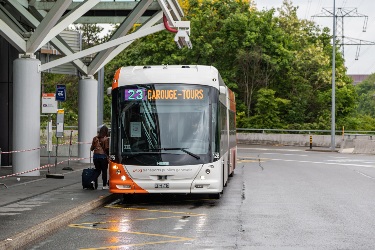 Battery Bus, Le Grand-Saconnex
|
Image by
Matti Blume
Antwerp's public transportation system is exceptional. With an extremely organized system of buses and trains one is subjected to a completely different point of view of the city and easy transfers from the airports are provided.
Bus
Buses 51,52 and 53 provide easy and convenient transfers from the airport to the Antwerp-Berchem railway station in 10 minutes. The Antwerp-Berchem railway station is located extremely close to the international airport and offers connections to other parts of the country including Brussels, Ghent and Bruges. International train connections are provided by the Antwerp-Central Station which can be reached by frequent running trains from Antwerp-Berchem Station. The connection takes only 5 minutes. Alternatively, buses 21 and 32 and trams 9 and 11 from the Antwerp-Berchem Station also offer fast transfers to Roosevelt Square, near Antwerp-Central railway station. Tickets for trains can be bought from the Ticket Offices or the Ticket Vending Machines located at the entry of the train station building.
Buses 51,52 and 53 run every 15 minutes from the roundabout located in front of the airport and take you to the Antwerp-Berchem Station in 10 minutes. Further, the majority of the buses at the Bercham station go to Rooseveltplaats.
Tram
You can also take a tram from the Antwerp-Berchem Station. Tram 4 ends at Slisburg and has a stop at Antwerpen Groenplaats which is close to the city center and shopping area. Tram 9 stops at Meir and Groenplaats and Tram 11 stops close to Antwerp-Central Station
Taxi
Taxis are a convenient choice from travelling from the airport especially at night when there is no public transportation and you have a lot of luggage. You can find the taxi stand when leaving the airport building. They can also be found at the roundabout from the airport building. Never use taxis that are not licensed. If licensed taxis are not available, an information desk can be contacted for additional help. It is located in the min hall. Taxi companies like DTM and TAXI ANTWERPEN SERVICE provide licensed cabs from the airport. Rydeu provides an easy solution for all your travel woes with easy airport transfers. They are cheap, affordable and leave you hassle-free to enjoy the journey to your destination.
Know More
Places To Visit In Antwerp
A city full of modern designs, gorgeous architecture, atmospheric cafes, Antwerp leaves everyone dazzled. Below is a list of must-visit tourist attractions to explore to make your trip complete
Grote Mark
Grote Mark |
Image by
ctj71081
from flickr
Visit the historical centre of the town, City Hall, which is surrounded by gorgeous medieval guild houses which can be found in most Flemish historical towns. A UNESCO World Heritage site, the city hall is a mesmerizing architectural example of Gothic and early Renaissance style. The Square lights up at night and brilliantly shines with a magical aura.
Museum Plantin-Moretus |
Image by
westher
from flickr
Museum Plantin-Moretus
World's oldest printing press, Museum Plantin-Moretus is a medieval building and is home to a beautiful ancient garden dating from the 17th century. It has been awarded a UNESCO World Heritage status due to its priceless collection of valuable manuscripts and original type sets. A great museum, it boasts of a historical library, a bookshop dating from 1700 and rooms lined with gilt leather.
Know More