Home
Cities
Sightseeing Transfer in Amsterdam
If you're planning a visit to Amsterdam, you may want to consider booking an Amsterdam airport transfer or Amsterdam airport taxi for an Amsterdam sightseeing transfer. With an Amsterdam airport transfer, you can explore the best Amsterdam sightseeing tours and the must-see places in Amsterdam at your own pace and in comfort.
There are numerous Amsterdam sightseeing tours available from Amsterdam International Airport Schiphol that provide private taxis, airport transfers, and private transfers, catering to different interests and preferences. Here's why you should consider booking a sightseeing transfer to make the most of your time in the city:
Zandvoort Strand
, Amsterdam |
Click by
Carol Pedro
from
Flickr
Amsterdam Sightseeing Tours
Amsterdam sightseeing tours are a popular choice for travelers who want to discover the best of what the city has to offer. These tours are often conducted by knowledgeable guides who can provide insights into Amsterdam's history, culture, and architecture. Whether you prefer a walking tour, a guided bus tour, or even a canal boat tour, there are various options available to suit different interests and preferences.
Must-See Places in Amsterdam
Amsterdam boasts a range of must-see places that capture the essence of the city. The iconic Anne Frank House offers a poignant glimpse into Amsterdam's World War II history, while the Van Gogh Museum houses an impressive collection of the renowned artist's works. Other popular attractions include the historic Rijksmuseum, the vibrant Dam Square, and the picturesque Jordaan neighborhood.
Canals, Amsterdam |
Click by
Giorgia
from
Flickr
Amsterdam Tourist Attractions
Amsterdam is home to a wealth of tourist attractions that cater to different interests. Art enthusiasts can explore the contemporary exhibits at the Stedelijk Museum or admire the works of Rembrandt at the Rembrandt House Museum. The Heineken Experience offers an interactive journey through the famous Dutch brewery, while the Royal Palace on Dam Square showcases opulent interiors and grand architecture.
Sightseeing in Amsterdam
Sightseeing in Amsterdam encompasses a mix of architectural wonders, scenic canals, and cultural hotspots. The charming canal belt, a UNESCO World Heritage site, is best explored on a canal boat tour. The vibrant neighborhood of De Pijp offers a lively atmosphere with its market, cafés, and boutique shops. For a tranquil escape, the peaceful Vondelpark provides a serene setting for relaxation and picnics.
Best Tourist Places in Amsterdam
Choosing the best tourist places in Amsterdam depends on your preferences. The vibrant Albert Cuyp Market is a must-visit for food lovers, while the Negen Straatjes (Nine Streets) entice shoppers with their unique boutiques. The Red Light District offers a unique cultural experience, while the Jordaan neighborhood showcases picturesque canals and quaint cafés.
By booking a sightseeing transfer in Amsterdam, you can maximize your time and experience the city's top attractions and hidden gems with ease. Whether you're interested in history, art, nature, or simply immersing yourself in the city's vibrant atmosphere, a sightseeing transfer allows you to navigate Amsterdam efficiently while enjoying the guidance and expertise of local experts. Don't miss out on the opportunity to explore the best of Amsterdam sightseeing places and create lasting memories of your visit.
Click by andrew_brooks86 from Flicker
The Anne Frank House
A significant historical landmark, the Anne Frank House provides a poignant and thought-provoking experience. It was here that Anne Frank, a Jewish girl hiding from the Nazis during World War II, wrote her famous diary. Explore the secret annex where Anne and her family hid, learn about their experiences, and gain insights into this tragic chapter of history.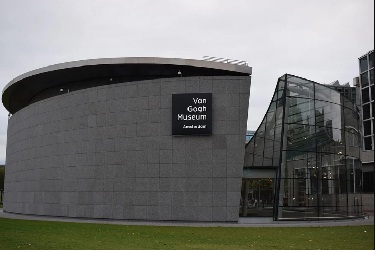 Click by emoro / 72 images from Pixabay
The Van Gogh Museum
Dedicated to the life and works of the legendary Dutch painter Vincent van Gogh, this museum is a must-see for art enthusiasts. Admire a stunning collection of Van Gogh's paintings, including his famous Sunflowers and The Bedroom. Gain insight into the artist's troubled life and artistic development through multimedia presentations and informative exhibits.
Click by MabelAmber from Pixabay
The Vondelpark
Escape the bustling city and unwind in the tranquil oasis of the Vondelpark. This expansive park is a favorite among locals and visitors alike, offering lush greenery, ponds, and meandering paths perfect for a leisurely walk or bike ride. Join the locals picnicking on sunny days or catch a performance at the park's open-air theater.
Click by djedj / 1376 images from Pixabay
The Jordaan Neighborhood
Take a leisurely stroll through the charming Jordaan neighborhood, known for its picturesque canals, quaint streets, and cozy cafés. Discover hidden courtyards, boutique shops, and art galleries as you soak up the neighborhood's laid-back atmosphere. Don't forget to visit the Noordermarkt, a vibrant market where you can find antiques, organic produce, and local treats.
Click by Ruben Holthuijsen from Flickr
The Rijksmuseum
This world-renowned museum is a treasure trove of Dutch art and history. Marvel at masterpieces by Rembrandt, Vermeer, and Van Gogh as you wander through its impressive galleries. From the iconic "Night Watch" to Van Gogh's mesmerizing self-portraits, the Rijksmuseum offers an enriching journey through centuries of Dutch art.
Click by skeeze / 12287 images from Pixabay
Keukenhof Gardens
Located in Lisse, just a short drive from Amsterdam, Keukenhof Gardens is a world-famous floral paradise. With over seven million flowers, including vibrant tulips, daffodils, and hyacinths, the gardens offer a breathtaking display of colors and fragrances. Take a leisurely stroll along the pathways, visit the pavilions showcasing different flower varieties, and immerse yourself in the beauty of nature.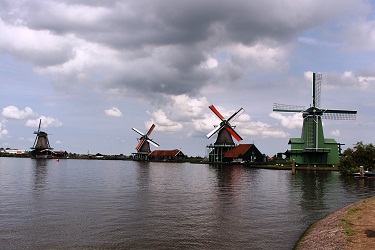 Click by Nel Botha from Pixabay
Zaanse Schans
Step back in time and experience the traditional Dutch countryside at Zaanse Schans. This picturesque village, situated along the Zaan River, is known for its well-preserved windmills, historic houses, and traditional crafts. Visit the working windmills to learn about their operation and see how clogs and cheese are made. The charming atmosphere and scenic landscapes make Zaanse Schans a popular spot for sightseeing and photography.
Click by Cor Gaasbeek from Pixabay
Hague
This 13th century historical city grew from politics. Where kingdoms rose and fell and great leaders flourished, Hague is the heart of the Dutch Government and still is the home of King's residential and working palaces. Spend a few days taking in the mesmerizing sights and soaking up the culture in the city's stately buildings and royal history.
Click by MAKY_OREL / 1970 images from Pixabay
Utrecht
Built around the Dom tower, Utrecht's ancient city centre hosts many historically important buildings and structures. Explore the Oude Hortus, the former botanical garden of Utrecht University, Rietveld Schroder House, an architectonic highlight by Gerrit Rietveld and Trajectum Lumen, a beautiful light art route that illuminates the city.
Click by Nicolas Vigier from Flickr
Haarlem
Just a short train ride from Amsterdam, Haarlem is a charming city with a rich history and a vibrant cultural scene. Explore the well-preserved medieval architecture, stroll along the cobblestone streets, and visit the iconic Grote Markt square with its imposing St. Bavo's Church. Haarlem also boasts excellent museums, such as the Frans Hals Museum, showcasing Dutch Golden Age art.