Home
Cities
Almeria is an amazing destination on the eastern edge of Andalusia, home to some of Spain's best-unspoiled beaches, and perfect for those seeking authenticity and a less crowded place along the Mediterranean coast, with Arabic architecture right next to industrial, sometimes a little rusty, landscapes.
Cala en Cabo de Gata
|
Click by
Pablo
from
Flickr
The Costa Almeria coastline has some of the most pristine beaches in Spain, particularly the wild and rugged beaches of the Cabo de Gata Natural Park. Other popular coastal towns with large, wide beaches and a variety of activities are Aguadulce and Roquetas de Mar.
Almeria is a city for those who want to get away from city life while also experiencing the atmosphere of a Spanish town on the Mediterranean coast. Almeria was a former Moorish stronghold, and much of the city's architecture and culture reflect this. Almeria's Alcazaba is a fortress that towers above the city and provides spectacular views of the sea and the city. It is completely free to visit and well worth the climb up the hill. It is the largest of the Moorish fortresses built in Al Andalus, having been built in 955.
Almeria Cathedral
|
Click by
Steve Slater
from
Flickr
A place where you can hear rough Andalusian Spanish and sample delicious tapas in local bars. The Almeria region is known as Europe's greenhouse, particularly in El Ejido, where a wide variety of high-quality fruits and vegetables, such as peppers, are grown in massive greenhouses and exported throughout Europe.
Almeria is a port city that overlooks the sea. The Alcazaba, an imposing fortress, towers above the city. Wonderful views of the city and the Costa Almeria coastline are guaranteed from this vantage point.
The Almeria Cathedral, located in the city center, is a striking structure that was built with very few windows due to the threat of invading forces. Jabega, a refreshing drink popular among locals, is served at Kiosco Amalia (close to Puerta Purchena). This lemon ice drink contains alcohol.
This lemon ice drink contains alcohol. The bar is located on the street. The Americano, a short milky drink with cinnamon, lemon rind, and a dash of cola cream liquor, is another popular drink.
Tapas are a popular local dish in Almeria. Explore the charming streets and learn about yourself. Parrilla Pasaje is a restaurant in the center. This bar created the popular "Cherigan," an Almerian toasted sandwich that is served in many bars throughout the city. The name Cherigan is derived from the word "Sheriff," possibly from the Westerns filmed in the nearby Tabernas desert. The original Cherigan can be found at C/Rueda Lopez, 1.
For those interested in history, the underground Spanish Civil War shelters - Los Refugios - provide a fascinating glimpse into wartime Spain. These tunnels beneath the city took three years to build and are one of Europe's best examples of wartime shelters at four kilometers in length. Plaza Manuel Perez Garcia serves as the entrance. (Mondays are closed.)
Pay a visit to Plaza Vieja's Centro de Interpretacion Patrimonial. The views from the rooftops are breathtaking. (Free admission; closed on Mondays)
El Paseo de Almeria in Almeria has a good selection of shops.
Because of Almeria's Moorish influence, there are many Moroccan restaurants to try. Aljama on Calle Jovellanos is an absolute must-see. The Hotel Cathedral is an excellent choice for a central Almeria hotel. Non-residents are welcome to visit the modern bar in the evening for tapas or in the morning for coffee and toast with views of Cathedral square.
Hotel CostaSol at Paseo de Almeria 58 is centrally located and offers a wide range of food all day. Plaza Vieja Hotel is an upmarket boutique-style hotel located in a typical square, close to the Cathedral but away from the noise.
If you have a sweet tooth, El Capri and Dulce Alianza are two popular cake shops that serve local pastries. La Dulce Alianza has been in operation since 1888 and is located at 4 Paseo de Almeria. El Capri is located at Calle Navarro Rodrigo 21, and their signature dish is the Glaseado cake.
The spectacular Tabernas desert is located to the north of Almeria. Because of its unique landscape, many Hollywood films have been shot here. There is a Mini Hollywood Theme Park in Tabernas where film sets from the 1960s still exist, and cowboys act out western scenes every day. Mini Hollywood is only 20 miles from Almeria.
Car
You have numerous options for getting to Almeria by car: If you are coming from Seville, take A92, which will take you directly to Almeria.The trip is 420 kilometers long. Coming from Málaga, you can take the national road N340 straight; From the Spanish Levant take the E15 or AP7 Autopista del Mediterráneo south. Take A4 or Autovia de Andalucia or A92 from Madrid. 552 kilometers separate the two locations.
Plane
To Almeria Airport- Almeria has an airport that is only 30 minutes away from the city center. There are currently no direct flights, and most flights stop in Madrid or Barcelona.
To Malaga Airport- If you want a direct flight, Malaga Airport is your best option. You can either rent a car and drive for 2 hours or take the bus, which will take about 4 hours.
To Alicante Airport- From here, rent a car and drive for about 3 hours to Almeria.
Train, Almeria

|
Click by
Andres Gomez.
from
Flickr
Trains
The Spanish railway system, RENFE, provides a variety of services that make train travel to the province more accessible from Granada, Barcelona, Madrid, Seville, and Cadiz. It should be noted, however, that there is no train service between Malaga and Almeria.
Bus, Almeria
|
Click by
Sludge G
from
Flickr
Taxi
Coaches from various companies depart from Almeria's bus station, providing shuttle service to all of the province's villages as well as major Spanish cities such as Madrid, Barcelona, Seville, Cordoba, Cadiz, Granada, Jaen, Malaga, and Murcia. Almeria buses cover the entire city and connect some of the city's popular beach resorts, including Roquetas de Mar, Aguadulce, Mojácar, and Carboneras. You can find information about services and timetables on the companies'
There are numerous ways to get to and from the airport. Trains, buses, and radio taxi Almeria are just a few of the options, but they all involve the stress of carrying your heavy luggage.
You're exhausted from your long plane ride, clearing immigration, and waiting for your luggage. You've arrived, but now you must explore the airport for transfer options such as buses, trains, and taxis. The most significant benefit of airport transfer service is that you will never have to deal with these issues again.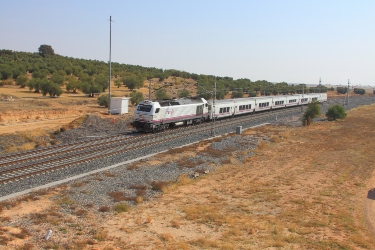 Train, Airport Transfer
|
Click by
Andres Gomez.
from
Flickr
You can enjoy a delightful transfer to your destination because experienced staff and drivers will ensure you arrive safely and securely. The airport attendant will be waiting at the front of the lobby with the customer's name board.
After a long flight or an early morning, nothing beats a relaxing car ride. Using a private transportation service allows you to avoid long or noisy public transportation rides. While looking out the car window at the scenery, you can have a pleasant journey.
Take your Almeria airport taxi with the help of a company like rydeu.com. Rydeu to do just that. Rydeu provides high-quality services at reasonable prices. To delight our customers, we create exciting offers such as a secure online booking process, on-time pickups, free cancellation, 24/7 customer support, 60 minutes free wait, and many more. Allow us to handle all of your transportation needs from Fuerteventura Airport, and throughout your stay on the islandso you can focus on creating memories to last a lifetime. Check out rydeu.com for reservations and other information. Enjoy a thrilling ride with Rydeu.com.
Know More
Almeria is one of Spain's many lovely cities. Almeria is a beautiful vacation destination with breathtaking beaches and rocky terrain. It's on the eastern edge of Adalusia, right on the Mediterranean. There are numerous activities to choose from, ranging from relaxation to adventure. These are the six activities you must try if you visit Almeria, Spain.
Almeria is well-known throughout Spain for its stunning beaches. Despite their popularity, the majority of them are unspoiled. Some of the most beautiful stretches can be found in Cabo de Gata Natural Park. The virginal playas give way to terrain dotted with cacti and dunes.
The city has a long history that dates back to the Phoenicians. Later, the city was occupied by the Romans and Visigoths. In the hinterlands, there are even traces of Copper Age and Bronze Age civilizations.
This historical city is an excellent choice for a romantic getaway with your significant other. Almeria has a number of museums worth visiting. The Museum of Almeria is an excellent place to begin your visit.
This museum contains Neolithic artifacts, as well as Roman and Moorish artifacts. The Chanca area, a group of rock-carved houses, is another cultural attraction in the city.
Best time to go
Two Almeria calendar dates are especially recommended. In early May, the Crosses of May festival takes place. This festival features large floral crosses set up throughout the city, as well as tapas bars. During the day, the festival has a fantastic atmosphere.
The Virgen del Mar is the highlight of the August Feria (holiday) (Virgen of the Sea). A floral offering is made on the last Saturday of August. This is Almeria's Patron, and the entire week is a festival with a variety of activities throughout the city. This tradition is carried on by the typical Rocio choir. A fairground with tapas bars, stalls, and fair rides is set up on the outskirts of the city.
Know More