Home
Cities
Abu Dhabi City Guide And Airport Transfer Service
Ferrari World Abu Dhabi
|
Click by
Aziz J.Hayat
from
Flickr
The headquarters of the United Arab Emirates, Abu Dhabi, is indeed the ideal of a metropolitan Gulf petro-city: thoroughly modern, openly wealthy, and staid. The Emirate's sudden and unexpected transition over the past forty years from a distant fishing town into a modern city-state is presumably the most riveting of all the tales of oil-driven change that dot the region, despite the reality that inhabitants had long chosen to undergo pride in their city's slower-paced and a lot more conventional approach to life, particularly in comparison to Dubai.
Abu Dhabi corniche & mosque
|
Click by
Luca
from
Flickr
With such a series of significant new mega-projects gradually starting to take shape all over the city, the city has already been making incremental improvements for local bragging rights and undertaking its genuine effort to draw tourists and businesses from around the world. There are Abu Dhabi things to do.
Book Your Airport Transfers in Abu Dhabi
Bicycle
Although it may sound bizarre, bicycles are a common form of public transportation in Abu Dhabi. Seated cycling tracks have become one of the most popular methods for leaving the Yas Islands. There are numerous docking stations for Cycle Bike Share on Yas Island and Saadiyat Island.
Price: AED 20 will provide you with a day pass.
A three-day pass is 50 AED.
Taxi, Abu-dhabi | Click by Nick Webb from Flickr
Taxis
In Abu Dhabi, taxis are a necessary form of public transportation. They are reachable nearly throughout the United Arab Emirates and are reasonably priced compared to other large cities. The UAE has a very well structured systems, and in Dubai and Abu Dhabi, the government controls a section of the taxi industry. Mobility won't be a factor because numerous cab stands are available around the city and outside the airport.
Metered taxis are operated by the government-regulated Abu Dhabi Taxi, which provides a ladies' cab service. If you have a phone number in the United Arab Emirates, you can book by installing the Abu Dhabi Taxi app. Wheelchair users can use taxis.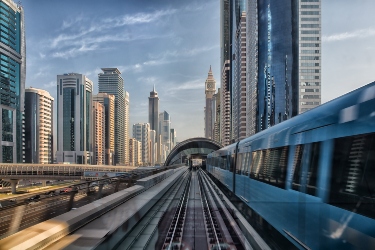 Metro, Abu-dhabi | Click by ANDY ARCIGA from Flickr
Metro
By 2030, Abu Dhabi hopes to construct a 12-station metro system. The whole Emirate will be served by the light train system, which would be modeled after the Dubai Metro and links the peninsula with areas like Al Raha Beach, Yas Island, and Saadiyat Island. The metropolitan will stretch over 429,000 feet and have 4 lines, all of which will be complemented by feeder tram and bus services. Furthermore, the metro will be fitted with CBTC technology, enabling autonomous GoA4 operation. The main depot, however, will have space for a total of 42 trains. The future Abu Dhabi Metro is an element of the Integrated Public Transport Network, including local and regional bus services, regional railways, rail transit, and bus rapid transit.
Ferries
In the UAE, there are additional mobility options besides taxis and buses. In Abu Dhabi, traveling by Abras or ferries is also relatively common. The Abu Dhabi ferry ride serves all cars and pedestrians. One way is to go to Delma Island from Marsa Jebel Al Dhanna. Each day, the boat system operates three times and only twice on Fridays.
Price- Ages 12 and up AED 20
Children under 12 years old: Free
Bring your vehicle registration card, a valid ID, and a $100 charge.
Bus
Buses make it easy to travel between both the city's critical places. The 24-hour city transit system in Abu Dhabi works on 14 routes. A lot of rides cost AED 2.
Big buses include:
Bus 5: Attaches Al Zahiyah, Al Maryah Island, and Marina Mall

Bus 54: This route connects Sheikh Zayed Grand Mosque, Al Zahiya, and Al Mina Fish Market.

Bus 94: It operates between the Sheikh Zayed Grand Mosque, the Al Wahda bus stop, Al Zahiyah, and the Louvre. ad blah

Bus 180: This route connects Ferrari World, Downtown, and the Al Wahda bus terminal (our personal favorite)
The Yas Express, a free shuttle service that runs three routes at least once an hour, is another bus service designed explicitly for Yas Island.
Hafilat Card:
You get to choose smart cards for buses, which could also enhance your ride on Abu Dhabi's public transport services far more pleasant. You must buy the Hafilat Card and a redeemable mat card each time you board and depart a bus to utilize the bus services. These cards are valid at all bus stops, including the Al Wahda bus station at the airport bus terminal. When stepping on and off the bus, show your Hafilat card to the scanner. Remember to purchase this when you reach Abu Dhabi. You had three choices: the temporary card, the nameless card, and the customized card. The minimum fee for the card is AED 5, so you can complete as small an amount as you would require for your vacation.
Abu Dhabi Airport Transfers And Private Taxi Service
Taxi:
The quickest transportation to and from the Abu Dhabi International Airport is by taxi. Cabs are accessible at the upper curbside inside the Entrance for passengers departing the Abu Dhabi Airport arrivals gates at Terminals 1 and 3. Taxis are available outside of the Terminal 2 Arrivals section at the AUH. Taxis can be grabbed on the street or ordered by phoning the TransAD hotline at 600-535353 if you're traveling to the departures gate at the Abu Dhabi Airport from any place in the city. Air-conditioned buses are available in Abu Dhabi and cost AED 4 for a one-way trip to and from the airport.
Car Rentals
|
Click by
Shenli Leong
from
Flickr
Car rentals:
At the Abu Dhabi International Airport, there are numerous national and local rental vehicle businesses. These are available at the Skypark Plaza, next to Terminal 3, and thus are accessible around the clock. Walking distance distinguishes Skypark Plaza from Terminals 1 and 3. From Terminal 2, travelers can take a 5-minute ride or a 1-kilometer walk to get to Skypark Plaza.
Bus:
Bus stops can be found outside the arrival and departure facilities of the airport in Abu Dhabi and are indicated by blue and white signage. A1, 490, 211, 240, and X8 are a few bus routes that make stops at the Abu Dhabi airport. Those arrive every 40 minutes. To take the bus, you'll need a Hafilat smart card.
Know More
Best Time To Visit Abu Dhabi
Winter in Abu Dhabi lasts from November to March.
Abu Dhabi weather
would be most frequently visited during the winter. It is substantially less muggy, and the temperatures are much warmer than in the summer. However, the conditions are pleasant, the sunlight is shining, and there is only a little risk rain.
The Grand Prix, which would be recognized as the year's biggest highlight, and other great activities like them, also take place during this time, bringing Abu Dubai to life. Nights are more relaxed, and while swimming in the sea is probably too chilly in winter, you can still enjoy heated pools at many hotels.
Spring in Abu Dhabi is from April to May.
A wonderful moment to go to Abu Dhabi is during the warmer seasons. Despite experiencing significantly warmer temps, you won't be dealing with the oppressive summer heat. The optimal time of year for your trip is now since you may enjoy the weather on the shore while escaping the wintertime throngs. Furthermore, getaways offered between April and May are less expensive than those provided during peak season.
Summer in Abu Dhabi runs from June until August.
Abu Dhabi has hot, muggy summers. It has been recorded for Abu Dhabi temperature to soar as high as 50°C! There are typically fewer visitors during this time, and individuals who genuinely enjoy the sun must devote their time at the beach or by the pool when the temperature is at its highest.
Having just said, these weeks provide some fantastic savings. Additionally, there is a tonne to do indoors, where the city's shops and resorts offer excellent modern air conditioning that relieves the heat. You'll also notice that the streets are busier at night when the temperature drops to the low 30s.
September to October – Autumn in Abu Dhabi
This is the second summer season and a terrific place to enjoy Abu Dhabi since, like springtime, the weather is warm and bright, making it an excellent time to relax by the pool or go sightseeing.
Average temperatures in Abu Dhabi
All year long, Abu Dhabi enjoys fantastic weather and mild weather. July and August are typically the hottest months, with annual peaks of a mind-blowing 41°C. If you decide to travel throughout these months, you must find air conditioning or stay in the shade to keep safe. In January, Abu Dhabi's average low is a pleasant 24°C, similar to a heatwave in the UK.
Know More